CLASSES & WORKSHOPS
Not all classes offered at all times.
---
Feisty Dog Class! Does your dog bark, lunge and simply go over the top when she sees another dog, a jogger, a squirrel or visitor?   In this 5-week class you will learn how to read your dog's body language, become cognizant of what causes your dog to react and how best to help her out.   Having two family members/friend per dog would be beneficial.   Class will be held outdoors, but may not be consecutive weeks due to weather. Auditors without dogs are welcome.  Sorry, but no human aggressive dogs or dogs with a bite history.
No classes scheduled at the moment.
---
Cross Training Class. On-going class, Tuesdays at 4:30.

---
Reliable Recall. Does your dog come when called? Does he sometimes act like he never heard you call? Does he move away from you when called? Would he rather play with his toys or sniff the ground? In this 5-week class learn the steps to developing a reliable recall. Based on Leslie Nelson's Really Reliable Recall, this class will focus solely on teaching you to teach your dog to come when called. Class meets for 6 weeks, approx. one-hour sessions. Pre-requisite is Family Manners 1 or equivalent. Class limited to 6 dogs. Instructor Chris Danker.
No classes scheduled at the moment.
---
If your new or old dog needs to learn or get refreshed in basic polite living with human skills like polite greetings, sit, stay, down, loose leash walking, recall and more, this is the place to learn. Class is limited to 4 dogs.
No classes scheduled at the moment.
---
Scent: your dog's nose at work:
Put your dog's natural scenting abilities to good use. Burn off mental and physical energy by teaching him the foundation skills of using his nose to search for hidden objects. Working teams are limited to 6 dogs.
No classes scheduled at the moment.
---
Self-Control and Focus. Does your dog forget his manners when he sees people and other dogs? Is there chaos in your house when the doorbell rings? Does your dog rush to get out the door? Grab anything and everything that falls on the floor? Learn the foundations skills for getting your dog to work with you rather then taking it upon himself to act. Start your dog on the road to better manners.
No classes scheduled at the moment.
---
For Questions email Chris at hemlock@nycap.rr.com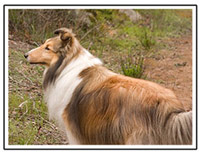 Photo: M. Milne